The CHAINMAIL section reviews bands that were proactive enough to e-mail me directly. Here at Cerebral Metalhead, initiative is rewarded.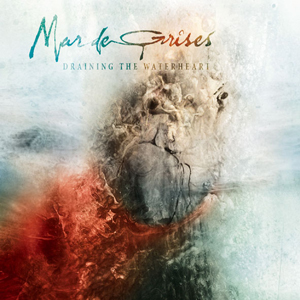 2008 was a damn good year for doom.
Esoteric
and
Daylight Dies
turned in their best records yet. Samothrace floored me with their heart-rending debut
Life's Trade
, and Trees scared the shit out of me with their debut 
Light's Bane
. Corrupted stopped by Los Angeles for the first time in over a decade, with Asunder in tow, and delivered one of the most memorable concerts I've ever attended; my first live
Thou
experience wasn't far behind. Birushanah's
Akai Yami
convinced me that there's still plenty of room for doom to grow. 
Add to the hit parade (hit funeral procession?)
Draining the Waterheart
, album number two from Chilean quintet Mar de Grises (Sea of Greys, in Spanish). The long, arcing shapes of its songs stretch all the way from Santiago to England and Sweden, where the Peaceville Three and Katatonia first imbued doom metal with gothic melody. Soaring keyboards and spectral ambience keep the compass pointed towards Finland, home of romantic funeral doom acts
Colosseum
and Swallow the Sun.
Mar de Grises - "Summon Me"
The comparisons serve only to orient -- Mar de Grises proudly carry the torch of doom tradition, but
Draining the Waterheart 
works an uncommon level of dynamism into a genre of metal that often gets by on oppressiveness alone. Opener "Sleep Just One Dawn" passes from dim-lit atmospherics to finely-textured guitar walls, reminiscent of the arrangements on Thrice's
Vheissu.
The stately crawl of "Kilómetros de Nada" is ripped apart at the 3:30 mark by jagged guitar disharmony, a startling twist of the knife when it's least expected.
Mar de Grises - "One Possessed"
From the electronic wash of "Fantasía" to the massive crunch of "Liturgia," from Juan Escobar's throaty growls to his layered harmonies on "One Possessed,"
Draining the Waterheart
 canvasses the entire icy spectrum of possibility that gothic doom metal offers. Mar de Grises intuitively understand the role of, and need for, peaks and valleys when you're dealing with such weighty territory (guess that's what living in the shadow of the Andes will do to ya). They're painting with all the greys of the rainbow. Doom's rarely this colorful.